Welcome to Prick 'n Stitch Cards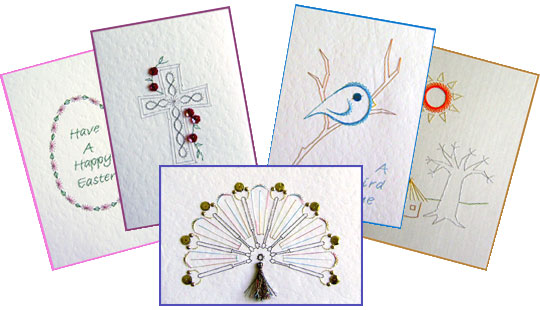 New Designs for 1st Quarter 2011
A way to give something of yourself to someone you care about.

The stitched card, on its own or in a frame,
makes a very special Gift


In our Catalogue you will find something for all tastes

An Introductory Kit to get you started,
Birthday and All Occasion cards,
Xmas cards and Gift Tags
and even a Free Design to try

These cards are fun to do and we cater for
both beginners and experienced needle-workers.

How to use this website:
Looking at the Designs
Click on the "Catalogue" button on the left hand navigation bar

Click on individual themes at the top of the Catalogue pages
(Booklets, For Kids, etc)

Click on an individual image for more information on the Design

Finding the Order Forms & Price Lists
Click on the "Ordering" button on the left hand navigation bar

Select the Files you want to download (Right click, "Save target as...")

Print out later
Making Payment
Information is given on the same "Ordering" page as above
Looking for a particular design?
Browse the website using our "Sitemap"


Please Note: Images may take time to download and the colours may not always display exactly
due to variations in monitors (and our camera techniques or lack thereof).
We also reserve the right to change the card colours in kits if stocks are not available.
Visitors to the site since 4th December 2006
© Prick 'n Stitch Cards 2002-2011 Sue Farmer & Liz Kelly All Rights Reserved